Vehicle Violation Information
Public Service Announcements
SPEEDING: The Farmington Police Department has a very low tolerance for speeders. Statistics support the fact that speeding increases the occurrence of motor vehicle crashes and lowering the number of motor vehicle crashes in Farmington is a top priority of the Farmington Police Department.

---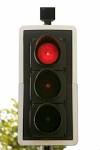 Operation Red Light: Watch out for those red lights. Always come to a complete stop at a red light because you never know who might be watching. The Farmington Police Department does observe different red lights from an unmarked police cruiser. If you get caught running a red light you will be greeted down the road by some flashing blue lights.



---

Operating Under the Influence (OUI): Through a grant from the Maine Department of Highway Safety, the Farmington Police Department will run several saturated patrols which are designed to look specifically for motorists that are operating under the influence.
---

Drug Impaired drivers are a growing problem for all operators on all roads across the country. The effects of impairment vary from person to person. In general, impairment can be defined as changes in a person's ability to perform routine daily tasks at the normal level of functioning. Symptoms may include drowsiness or excitability, altered depth perception, or slowed or increased reaction time. Impairment affects one's ability to drive, among other things, but these changes can often be difficult to identify. Officer Shane Cote is the Drug Recognition Expert for the Farmington Police Department. He has received extensive training in the detection and apprehension of drug impaired drivers. If an operator is stopped and drug impairment is suspected, they are going to meet Officer Cote. Some drivers aren't even aware that they are drug impaired, don't let this be you.

---

Operating with a suspended license: Drivers operating after suspension of their driver's license is a problem of large scale for all operators on all roads across the country. To help to combat this problem, the Secretary of State and Bureau of Motor Vehicles now publishes a list of suspended operators, available to all law enforcement agencies in the state. On any given day, there are both Farmington residents operating with suspended licenses and drivers passing through Farmington with suspended licenses. It is another function of the Farmington Police Department to initiate contact with random drivers in hopes to apprehend these individuals. In Farmington, a driver found to be operating after suspension will be arrested.