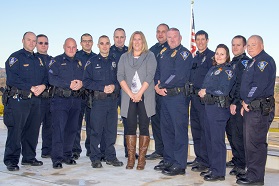 Front Left to Right: Deputy Chief Shane Cote, Sgt. Edward Hastings, IV, Officer Michael Lyman, Office Manager Bonnie Pomeroy, Police Chief Jack Peck, Jr., Officer Bridgette Gilbert, and Detective Marc Bowering.
Back Left to Right: Officer Ryan Rosie, Officer Derrick Doucette, Officer Darin Gilbert, Sgt. Michael Adcock, Officer William Tanner, IV, and Officer Justin Blais.
Absent from photo: Reserve Patrolman Ted Neil, Parking Enforcement Dean Robinson, Animal Control Officer Wayne Atwood, Crossing Guard Robert Hallman, and part-time Secretaries Stephen Bunker and Kyle Ellis.
Farmington Police Department Mission Statement:
"To create a feeling of safety for the people within the Town of Farmington."