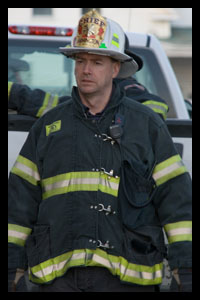 Fire Chief Terry Bell
Terry S. Bell, Sr. joined the Farmington Fire Department on April 5, 1977. He became a Lieutenant on January 1, 1983 and was promoted to Assistant Chief on January 1, 1984 and then again promoted to Deputy Chief on August 6, 1991 and then in June 26, 2000 he was hired as the Town's first Fulltime Fire Chief.
He was born and grew up in Farmington and graduated from Mt. Blue High School. Graduated from Maine State Fire Academy in 1981 with a Firefighter I &II certification, Hazardous Materials Technician May 1991, In January 1993 became the Town's Emergency Management Director.
He is a member of the International Association of Fire Chiefs, New England Association of Fire Chiefs, Maine Fire Chiefs Association and the Maine State Federation of Fire Fighters.
In his spare time, he enjoys being with his wife Denise and son TJ and his dog Dexter. Also getting together with family and friends.