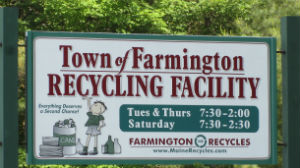 town office reopens
The Farmington Transfer Station will remain open during its regular hours, however, the Swap Shop will remain closed until further notice. Residents using the facility are required to maintain social distancing, and face coverings are recommended. We appreciate your understanding as we try to maintain our services but reduce exposure to employees as well as our citizens.
---
"Recycling is mandatory in Farmington"
The Farmington Public Works Department maintains the Bulky Waste and Recycling Facility. Thanks to the efforts of our townspeople, the Town of Farmington recycles approximately 50% of its waste which reduces disposal costs and dependence on commercial disposal options.
Landfill operation and maintenance – Management and hauling of collected materials, maintenance for DEP permit requirements, and providing an attendant for regular hours of operation.
Maintaining brush/leaf/yard waste for composting
Residents can drop off items that still have life in them to the "Swap Shop."

Farmington contracts for recycling with:
Archie's Inc. / J & J Disposal
(800) 364-2425
(207) 364-2425
360 River Road
Mexico, ME 04257
---
Household Hazardous Waste
Click here for more information on AVCOG.