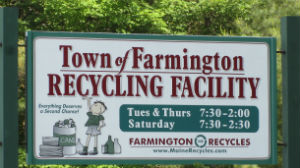 town swap shop is is now open
---
Immediate Opening at the Recycling Center for Part-Time Year-Round employment
Click here to dowload an application.
FARMINGTON COMPOST COOPERATIVE SURVEY
Click here to download the survey
---
"Recycling is mandatory in Farmington"
The Farmington Public Works Department maintains the Bulky Waste and Recycling Facility. Thanks to the efforts of our townspeople, the Town of Farmington recycles approximately 50% of its waste which reduces disposal costs and dependence on commercial disposal options.
Landfill operation and maintenance – Management and hauling of collected materials, maintenance for DEP permit requirements, and providing an attendant for regular hours of operation.
Maintaining brush/leaf/yard waste for composting
Residents can drop off items that still have life in them to the "Swap Shop."

Farmington contracts for recycling with:
Archie's Inc. / J & J Disposal
(800) 364-2425
(207) 364-2425
360 River Road
Mexico, ME 04257
---
Archies Inc./J&J Disposal also provides trash drop off at the Recycling Facility.
Effective October 4, 2022, Archies will have the following rate changes at the facility:
White 13-gallon trash bags - $2.00 per bag
Above 13-gallon to 30-gallon trash bag -$3.00 per bag
Above 30-gallon to 45-gallon trash bag -$4.00 per bag
$1.00 will be added on for excessively heavy bags
---
---
Household Hazardous Waste
Click here for more information on AVCOG.